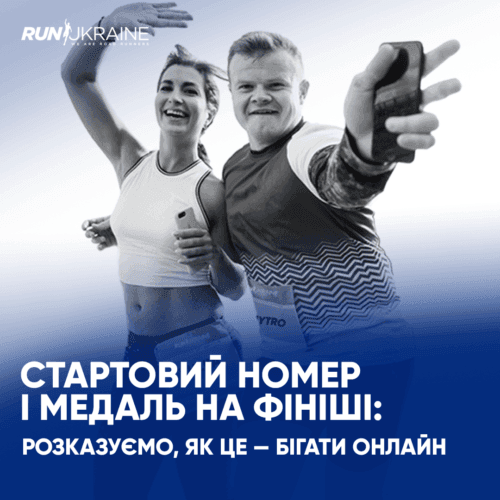 What is an online race? What is the point of running online? What do I get from participation in an online race? How to run online? How to get a start package? Will there be a medal? Who keeps track of the results? If you have similar questions and doubt whether you should run online, this article was written for you. 
(Spoiler alert — you should definitely do it!)
What is an online race?
Online race is an individual race of a certain number of kilometers that a participant must run on specific dates. For example, the opening race of this year's Running League is the 5th MOLOKIYA LVIV HALF MARATHON ONLINE, which is to take place on August 22–23. Over the course of these two days the participant who registered for this event must run the distance of his/her choice. The time, route and location for the race are chosen by the participant. 
It means that no matter where you are — in Lviv, Kharkiv, Zhytomyr or Kherson, on the right or left bank of Kyiv — you can run your distance and become a part of this grand sports event. Everything will be real during your online race. Yes, there will be no shared start with thousand of other runners, there will be no starting gunshot, crowds of people in the audience and warm hugs at the finish line, but your race will still be real. You will have genuine sweat, struggle and victory. You will have a real medal at the finish line and real  wild emotions that motivate you to run on towards new achievements. And that is exactly why you love our races so much!
Why should I run online?
An online race gives you a unique experience. It is about self-organization and self-control. This is you running an individual race knowing that there are thousands of runners in Ukraine and across the whole globe running with you. They don't need to be running next to you, because they are running with you. Together you overcome one kilometer after another and make a large-scale race possible in the time of lockdown.
Running online in 2020 means proving that no circumstances can make us, runners, give up. 
Running online in 2020 is about keeping your shape and motivation. You will have an actual online race with all the attributes of an offline one: training plan, personalized race bib number, official event wristband, backpack, online Participant's Guide, finisher diploma and a medal.
Running online in 2020 is about supporting the running movement in Ukraine. And supporting us, the organizers.
OK, so how do I run online?
First of all, you need to choose your distance — 4.2 km, 10 km, 21 km or 42 km (only for Kyiv Marathon) — choose your event (or all five of them) and register. 
If you do it during early registration, you can get your start package with a personalized race bib number and a medal before the race (by the way, delivery cost for Nova Poshta services is already included in the registration fee both for participants in Ukraine and abroad). If you register during the time of late registration, you race number is emailed to you, and the rest of the package is mailed to you in 21 days after the race. 
Then you need to choose on which day (Saturday or Sunday) you will run, choose your time and come up with a route. 
Make sure you attach your race bib number before you start to help other runners recognize you and don't forget to turn on you tracking software that will capture your results. That's it, all that's left to do is run, reach the finish line, earn your medal and experience the victory over yourself.
You need to send the screenshot of your race record from the tracking software or a link to your personal profile to the email [email protected] within three days after the race. Once you result is confirmed, we will email you your finisher diploma with your personal time. This step is especially important to those who plan to run the whole League and get the Under Armour Ukrainian Majors Running League 2020 Online finisher medal, since we will be sending out medals only once all the results are checked. 
You see, the online race is an adventure that will help you discover the new side to running and give you unforgettable emotions and feeling of union with all the runners around the world.
Let's #runtogether online!